32 years helping to increase hotel revenue
Learn More
" Reservhotel is a very professional and up to date central reveservation system. We have had their booking engine for years now. They have helped us achieved a tremendous growth on direct bookings.I also appreciate how they seek to improve in an ongoing basis and keep direct communication with us (clients). "
Saul Gonzalez Corporate Director of Revenue & Inventory Management
Pueblo Bonito Resorts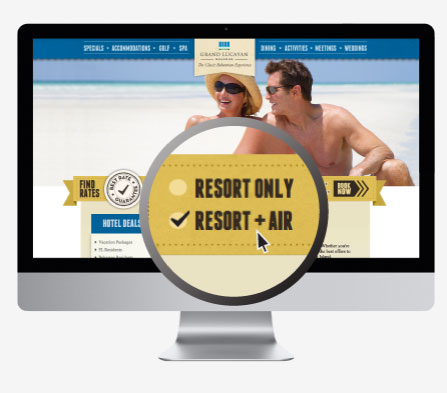 Dynamic booking
engine technology
Compete with the big guys
Our innovative, hassle-free booking engine combines hotel & air packages or simply hotel only solutions to offer convenience for your guests while maximizing your revenue. Become your own online travel agent and sign up today!
Learn more >
GDS Solutions
Representation simplified
ReservHotel provides access to the major Global Distributions
Systems (GDS) connecting your property to over 500,000 travel
agents and millions of potential customers worldwide. Our
seamless next generation technology allows travel agents to
access more accurate and up-to-date information on your hotel at
any given time, easily and instantly
Learn More >
Some of our happy customers